2019/20
GuestsJeffrey Heer (University of Washington), Hendrik Lehmann (Tagesspiegel), Katherine Hepworth (University of Nevada), Francesca Morini, Tobias Kauer & Jonas Rogge (FH sPotsdam)
2018/19
Guests
Tori Dykes (Technologiestiftung Berlin), Nina Hälker & Till Degkwitz (HCU Hamburg), Hendrik Lehmann & David Meidinger (Tagesspiegel), Benno Bock & André Klein (civity Management Consultants)
Who owns the Boxi?
David Amacher, Dominik Berton, Felix Jaekel, Paul Roeder, Léonie Schwöbel — Tagesspiegel An investigation into the changing ownership structure of this iconic square in the middle of Berlin Friedrichshain.
Hamburg: Happy & Healthy?
Dustin Kummer, Edmundo Gallindo, Fabian Fleckenstein, Fabian Schrader, Krista Smathers, Susanne Helm, Xiaotong Xiong — HCU Hamburg Health infrastructure in the hanseatic city and how it relates to differences in wealth.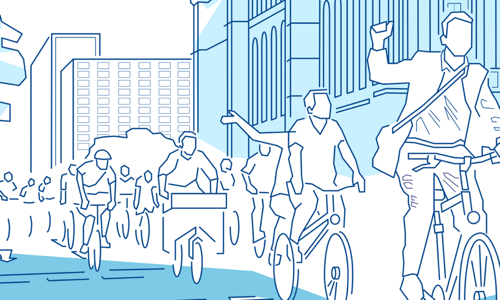 Berlin's Vision For a Bicycle-Friendly City
Simon Pedross, Julian Broocks, Julian Roling, Regina Schröter — Tagesspiegel The capital's bicycling infrastructure in comparison to its Dutch and Scandinavian counterparts.
2017/18
Guests
Adrien Labaeye (HU Berlin), Herbert Lohner (BUND Berlin), Nina Hälker & Katrin Hovy (HCU Hamburg), Alexandra Toland (TU Berlin), Sebastian Meier (Technologiestiftung Berlin) — part of Urban Future Talks »Mapping as a Critical and Transformative Practice«.